While I'm finishing up Elisha's dress, I'm planning a travel wardrobe for a trip to Italy in October.  I've been to Italy twice before, so I have a pretty good idea how I want to dress.
The first time I went to Italy, I was traveling with my then college-age son.  We were very casual, to say the least.  It was a 30-year heat wave in Italy, so I wore hiking shorts and t-shirts, with a "trendy" pair of Birkenstocks thrown in for good measure.
Meanwhile, the beautiful Italian women were wearing gorgeous, long maxi dresses in lovely pastel colors. I remember feeling incredibly under-dressed and dowdy.  Since then, I have learned that the Italians consider it a courtesy to others to dress well.  I don't think that means they dress expensively as much as it means that they dress neatly.  An Italian woman wouldn't be caught dead in baggy (read American comfortable) clothing.   Not to say that an Italian woman won't wear a t-shirt.  It's just that her t-shirt would be well-fitted and stylish.
Two years ago, I went to Italy with my husband and another couple.  We decided to take a private tour to the Vatican, instead of going there on our own.  We were recommended a tour company, and on the day of our tour, the lovely Marina, our tour guide, showed up at our B & B.  She was dressed very casually, by Italian standards. She had on a t-shirt and city shorts, with strappy, flat-soled sandals.  For all that, she looked quite put together.  Her t-shirt was fitted, with cap sleeves to allow her entrance to the Vatican (your shoulders must be covered).  Her city shorts were slim-fitting, and came just to her knee.  The clothing was neat and, obviously, very well made.   She didn't have on any makeup, and no obvious jewelry.  Her hair was casual, but stylish.  That's Italian dress in a nutshell.
Why is it important for a foreigner to dress appropriately when visiting Italy?  Because, as I said before, Italians consider it a courtesy to others to dress well.  I'm sure that by now, they understand that Americans don't have that same cultural belief (it's pretty obvious when you watch the American tourists walking about), but, when in Rome, why not show them the same courtesy they would happily show you. Besides, it's a great time for an American girl to dress up a bit without everyone gawking at her.  Right?
I'm not sure what the weather will be like in northern Italy in October.  It could be warm, or it could be cold, so I'll need to be careful in my planning.  The plan is to take pieces that are not too heavy, but can be layered.  As far a fabrics go, I'm thinking  medium weight rayon wovens and knits, washable silk, ponte knit, light weight wool, etc.  Basically, anything that will pack small, be somewhat wrinkle free, and not too hot.
This plan is evolving.  I just hope this one doesn't "devolve into chaos", which many of my wardrobe plans do. First, I went back and forth about whether I should include jackets in the plan.  I finally decided that I am more of a cardigan girl, so I went out on a limb and bought a tan/black, tweedy, boucle knit in a wool/rayon blend.  Now I have a fabric to build the rest of the wardrobe around.
Today, I bought this black, light wool Eileen Fisher cardigan.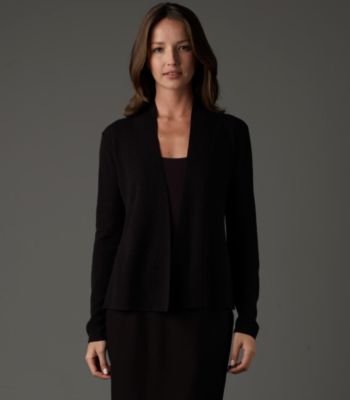 So, it seems that the basic plan calls for fabrics that are black, tan/camel, white, brown….very neutral.  This is what I'm thinking so far:
Black (may be rayon woven or ponte knit or a combination of the two)
1 pair pants
1 skirt
1 Eileen Fisher cardigan
1 shell
a dress (maybe/maybe not – the skirt and shell would be a two-piece dress)
Tan or Camel (same as above)
1 pair pants
1 skirt
1 tan/black boucle cardigan
1 shell
Three other tops in various colors (white, pink, brown, gray?)
1 raincoat that folds into its pocket (it's reversible – light taupe on one side, dark taupe on the other)
2 pair comfortable shoes
It's a plan made for changing, but at least it's a start.  More on the patterns and fabrics later.